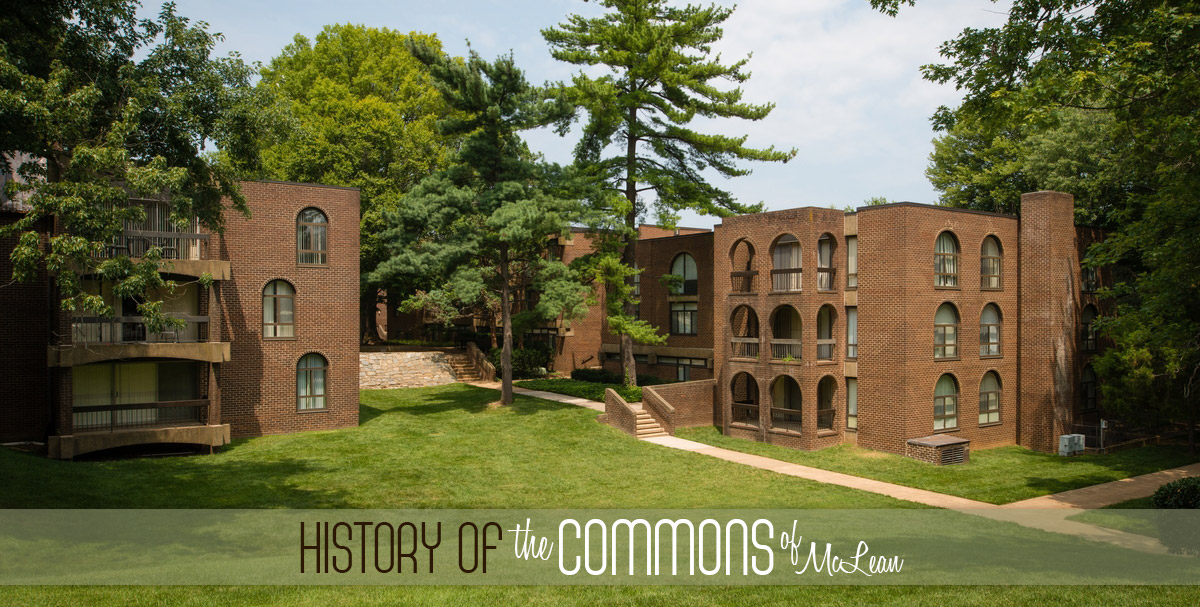 John Cole Photography
The Vision
Courtesy HistoryMatters
The Commons of McLean was unique. There was no other residential property of its kind in the area before famed architect Charles M. Goodman was hired to create not just a development, but a real community. Its beautifully planned and naturally landscaped garden apartments and townhouses were built to give the employees of the region's first-ever office park next door a wonderful place to live. By then Goodman had established himself as a leading light in both housing architecture and community-enhancing environments starting in the mid-1940s with his award-winning designs for the neighborhood of Hollin Hills (on the Fairfax County Inventory of Historic Sites). Goodman now turned his attention to McLean-Tysons Corner.
John Cole Photography
Goodman Style
A visionary disciple of Modernism, Goodman employed his trademark style at The Commons—abundant glass, geometric shapes, flat roofs, natural settings. He explained that "we tailored our buildings to the contours of this unspoiled countryside" with its ponds, hills, valleys, and trees. But the veteran architect also experimented with classic and traditional styles there, as seen in his prominent use of arches, beams and brick. Punctuating the property were fountains, pools, courtyards, a shopping center, and even horse stables.
Courtesy HistoryMatters
Transformation
A year prior to his work at The Commons, Goodman designed the master site plan and office buildings for the neighboring Westgate Research Park. Both the high-tech office park and The Commons were the dream of founders Gerald T. Halpin and Col. Rudolph G. Seeley of the local real estate development firm Westgate Corporation. Born of the shared vision of Goodman and Westgate to enhance the lives of the employees of that early office park, The Commons played a pivotal role at the very beginning of Tysons' transformation from a rural crossroads to not only a region-wide commercial and employment center, but a welcoming residential community. In this way, Goodman once again left his visionary, architectural mark on the social fabric of Fairfax County, Virginia.
Courtesy HistoryMatters
The Art of the Architect
Goodman's original drawings seen here take us back to the moment construction commenced in early 1966 on the 38-acre development which was to include one-to-three-bedroom garden apartments and two-to-four-bedroom townhouses, with rents ranging from $135 to $325 a month. Phase 1 was completed by December 1966. The following year it won 1st prize in the garden apartment category from the Northern Virginia Builders Association. The townhouses were completed first in October 1966. The rest of the project, through Phase 5, continued to 1973.
Library of Congress Prints & Photographs Division, Goodman Archive, Call Number Unprocessed in PR 13 CN 2001:115, Cabinet 3, Drawer 25, Folder 1 – The Commons Phase I & II Garden Apartments.
Charles M. Goodman's work was remarkable in many ways, but most clearly evident from The Commons site plan is his allowance for ample open space—conducive to communing with nature and other residents—and for the water features he so loved, in the form of fountains and pools. He was a man who understood that human beings are both creatures of nature and society, and one without the other leaves our existence incomplete.
It is important to note that, for reasons unknown, only Phases 1 and 3 were built to Goodman's exact design specifications. So these original renderings provide a helpful clarification of the historical record and his legacy.
Courtesy HistoryMatters
Library of Congress Prints & Photographs Division, Goodman Archive, Call Number Unprocessed in PR 13 CN 2001:115, Cabinet 3, Drawer 25, Folder 1 – The Commons Phase I & II Garden Apartments.